Monday, November 29, 2021
Christmas is already here!! Man, we just had Thanksgiving, and now we are underway with Christmas full steam ahead! It was Black Friday, Small Business Saturday, and as you likely read, it's Cyber Monday! Deals, deals, price cuts, sales, we must spend the least amount possible to gain the most amount possible!
And then along comes Advent. The 4 week season before Christmas reminds us to wait, to slow down and wait for the coming of the Christ child. The "True" meaning of Christmas does not arrive until Dec. 24th; you can unwrap the gift at that time! We are the people of God, who are loved and love this Jesus. This Babe born anew in our lives, walks with us and unites us with all who have gone before us. This same God we wait on, walks with us (Emmanuel, meaning "God with us!") into the manger. We can do this together.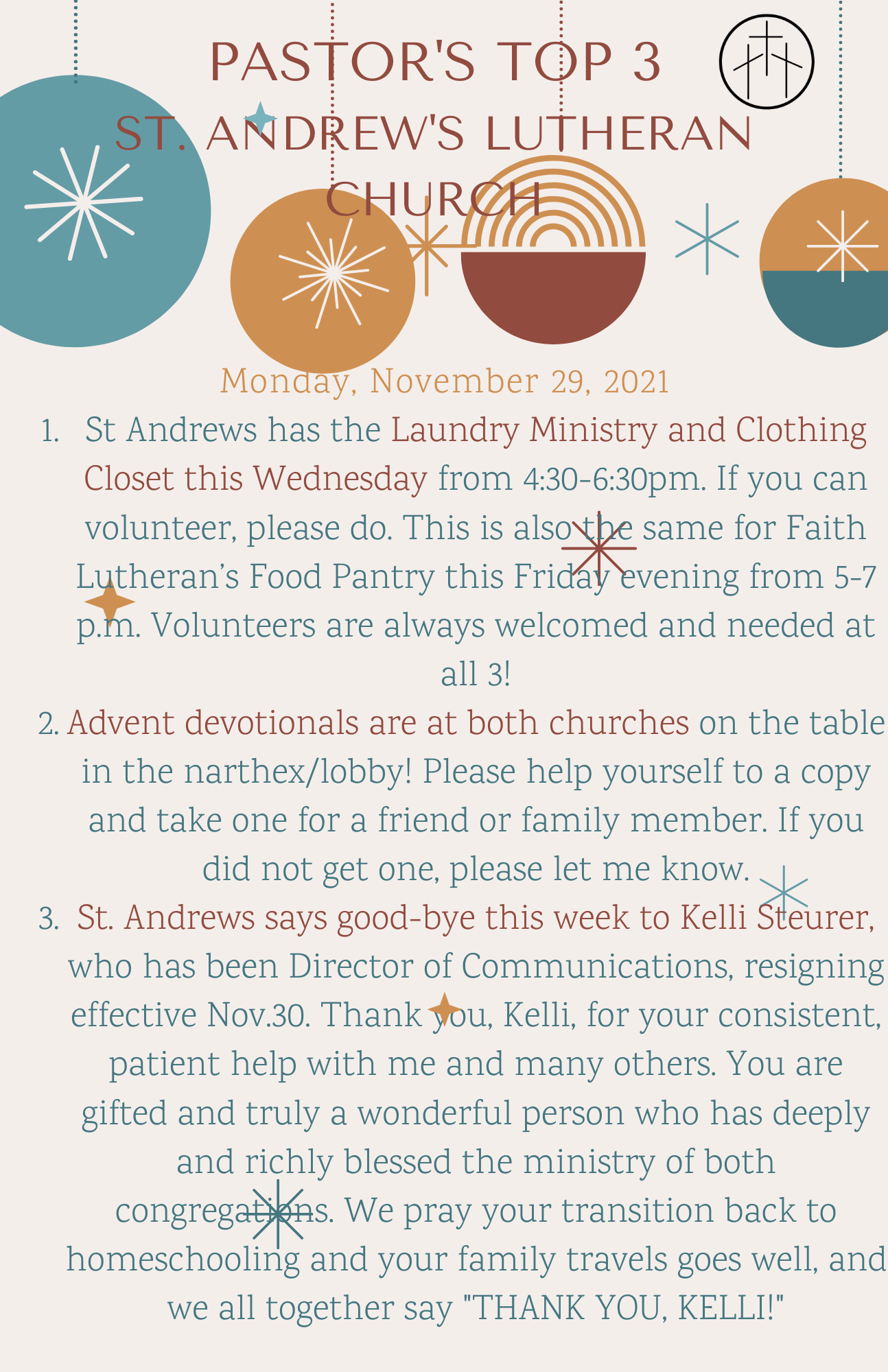 P.S. Bible studies on Zoom: Wednesday nights at 7 p.m. we study the lessons for the coming Sunday. Sunday mornings at 10 a.m. in the library of St Andrew's and after services at Faith, with Debbie Hacker. Sunday evenings at 7 p.m. is Faith Formation! It's a new church season; commit to being in God's Word and growing your faith. Together let's GROW thru Advent and not just "GO!"
Pastor Doug
Remember:
Sunday Morning Adult Faith Formation 10am in the Lounge/Library.
Worship time is 11am.
Sunday Evening Faith Formation 7pm Via Zoom.
Recorded Worship available on website, Facebook, & email Sunday evenings.
Mary Magdalene meets the 2nd Monday at 4:30pm.
Office Hours 10-4, T-W-TH.
Midweek Moment Wednesdays 12pm.